Indications and Application
STRATTICE™ RTM is:
used in the repair of hernias and/or body wall defects that require the use of reinforcing or bridging material to obtain the desired surgical outcome
intended for single-patient one-time use only
Tissue Processing
The Allergan proprietary tissue process significantly reduces the components responsible for increased inflammation, allowing for positive recognition of the tissue matrix.1,*

Mechanism of Action and Preclinical Outcomes
As shown in an animal model, this proprietary process allows for cell repopulation, rapid revascularization, and white cell migration,
which may lead to increased resistance to infection at the surgical site.3.*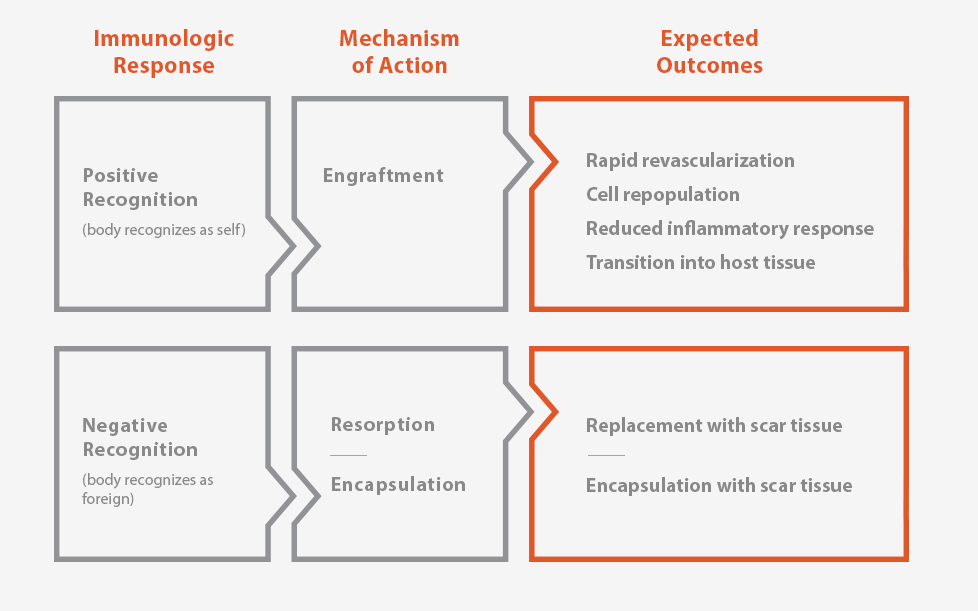 * Correlation of these results to results in humans is not established
Extensively Studied. Demonstrated Results.†
†Includes preclinical and clinical data.
‡Searches performed on PubMed, Google, Google Scholar, Ovid® and ScienceDirect® through June 2016.
References: 1. Sun WQ, Xu H, Sandor M, Lombardi J. Process-induced extracellular matrix alterations affect the mechanisms of soft tissue repair and regeneration. J Tissue Eng. 2013;4:204173141350530. doi: 10.1177/2041731413505305. 2. STRATTICE Instructions for Use, LifeCell Corporation, 2015. 3. Connor J, McQuillan D, Sandor M, et al. Retention of structural and biochemical integrity in a biological mesh supports tissue remodeling in a primate abdominal wall model. Regen Med. 2009;4(2):185-195.